Skip to the dishes you are looking for by choosing a category
Via Mare's inimitable pasta delight of rice noodles with luscious shrimp sauce and savory topping
Mungbean and egg noodles sauteed with shrimp, pork, and Chinese chorizo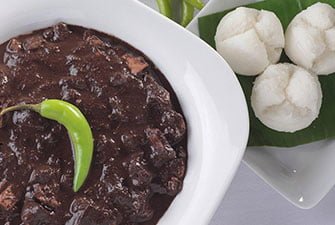 Hearty pork blood stew served with steamed rice cakes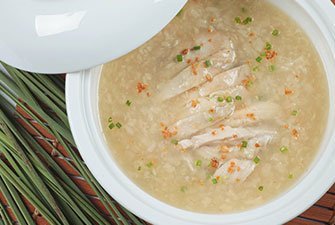 Savory rice porridge with choice of chicken (plus P10) or goto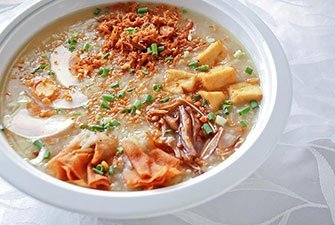 Rice porridge topped with adobo flakes, salted duck egg, crisp tofu, pork kilawin, fried wonton, garlic flakes, and spring onions
Egg noodles with shrimp, squid balls, and pork liver
Fried Tofu and boiled pork in garlic-soy vinaigrette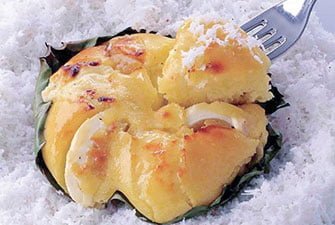 Via Mare's Signature Bibingka Galapong, with Laguna Cheese and Salted Duck Egg. With Queso De Bola, add P 15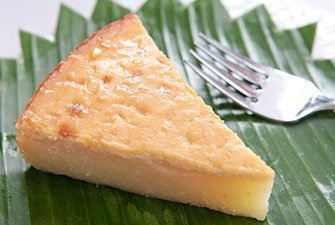 Baked Cassava pudding topped with coco cream custard
Guinataang Halo Halo
P 165
Taro, purple yam, and sweet potato, stewed in rich coconut cream with rice dumpling, plantain banana and jackfruit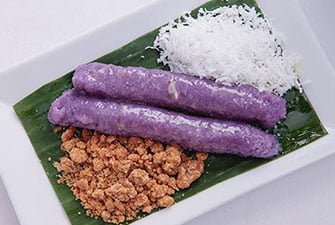 Classic Puto Bumbong. With grated cheddar cheese add P30. With Queso De Bola add P40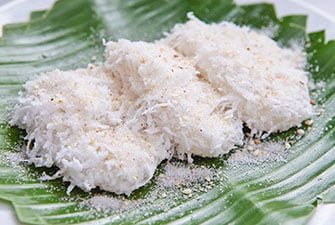 Poached rice patties with grated coconut and toasted sesame seeds
Glutinous rice steamed with coconut cream. Served with ripe mango
Farmer-style with white cheese
Slices of mild tasting and slightly nutty Edam cheese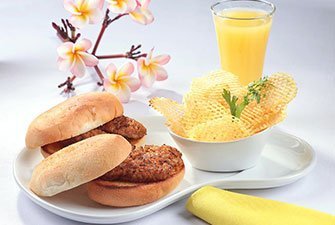 Crispy Vigan Longganiza
P 295​
Lean, garlicky pork-meat flavored with freshly cracked black peppercorns
Delightful, hearty meals served anytime.

Fresh eggs served any style, with garlic fried rice, and atchara upon request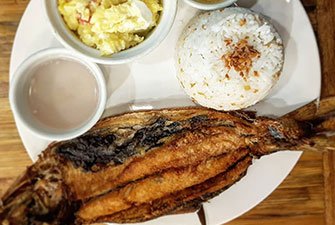 Tasty pan-fried boneless smoked milkfish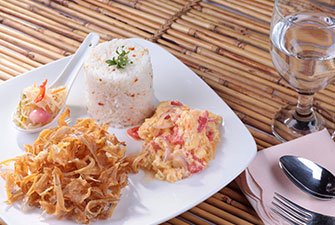 Crunchy Boneless Dilis​
P 325
Golden fried anchovy fillet ​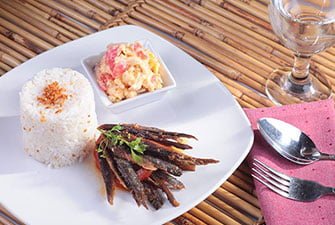 Spiced dried herring in olive oil with garlic and spices ​
Crispy Adobo Flakes​
P 395
Shredded pork adobo, toasted to the right combination of chewy and crisp perfection ​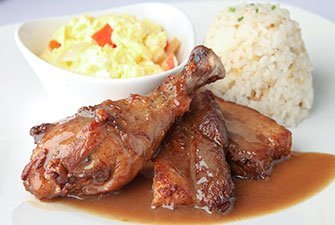 Chicken and Pork Adobo​
P 395
Chicken or pork belly or a combination of both, slowly cooked in soy sauce and vinegar with garlic and bay leaf ​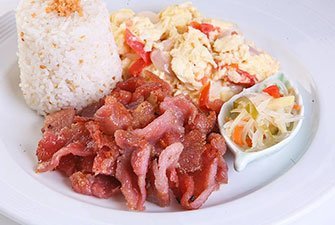 Moderately sweet, thinly sliced cured meat in pineapple marinade ​
Corned beef flakes sauteed with red onions ​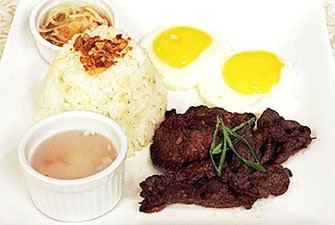 Sirloin marinated garlic, salt, and pepper ​
Crispy fried lean, garlicky pork meat sausage flavored with freshly cracked black peppercorns and lightly soured sukang Iloco ​
Fresh shrimps in tamarind broth with vegetables​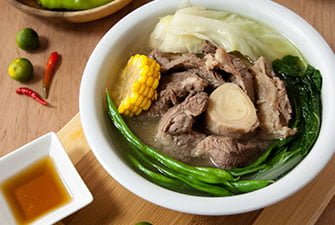 Hearty Soup of beef shank and bone marrow (good for 2)​
Soup of stuffed noodles with shrimp, pork, chicken, and ham (good for 2) ​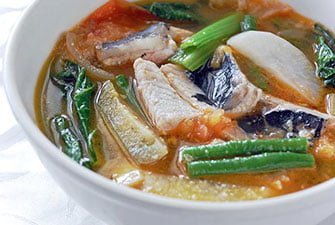 Tiyan ng Bangus Sinigang Sa Miso​
P 365
Milkfish bellies in sour broth with soybean paste and mustard leaves (good for 2) ​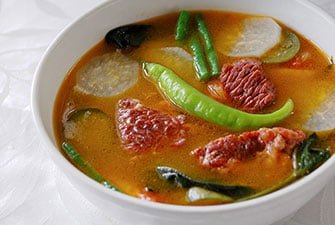 Cured beef short ribs and brisket in tamarind broth with vegetables (good for 2) ​
Favorite comfort soup of mung bean with ampalaya leaves served with shrimps and chicharon (good for 2)​
Flavorful Filipino Rice Dishes
With sun-dried shrimps, bagoong, and scrambled eggs ​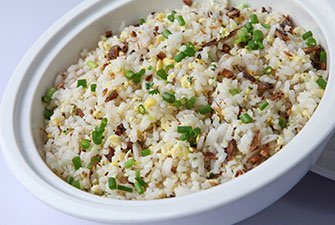 With dried fish flakes and scrambled eggs ​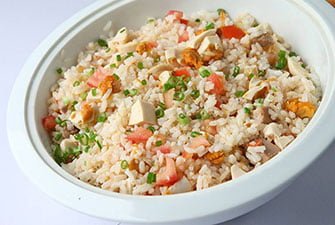 With adobo, salted eggs, and tomato ​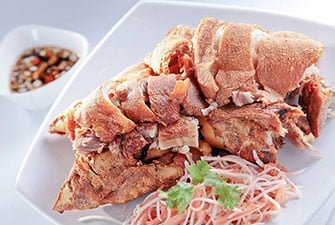 Fried to perfection, served with green mango-turnip relish (good for 2)​
Grilled country style pork belly ​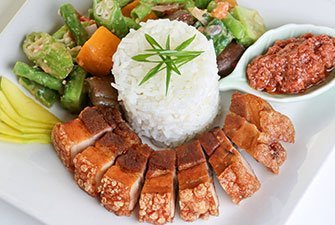 Crispy Pork Binagoongan​
P 405​
Crispy pork bellies with sauteed bagoong
Ox tripe and ox tail in peanut annatto sauce, served with bagoong alamang. Good for 2, and served with 1 rice​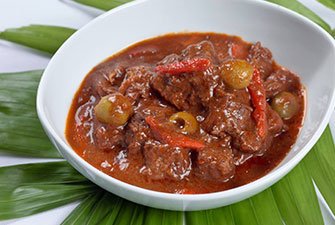 Beef stew in rich tomato sauce. Good for 2, and served with 1 rice​
Diced beef tenderloin in spicy sauce ​
Ground beef cooked in sofrito, with raisins and snow peas. Served with fried egg and plantain
Sundried Crispy Tapa​
P 375​
Sun dried beef sirloin, a tasty and delicious alternative to the traditional Filipino fare​
In skewers. Garlic-Annatto roast chicken served with Sinamak dip​
Tiyan ng Bangus Bistek​
P 405​
Pan-fried milkfish bellies in soy-calamansi sauce, topped with roasted onion rings. Served with fried vegetable spring roll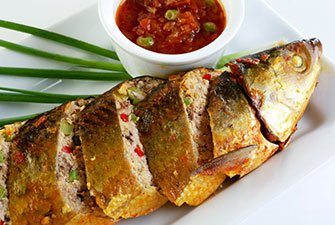 Stuffed whole milkfish with savory tomato sauce (good for 2)​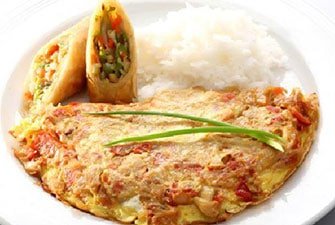 Crabmeat omelette served with fried vegetable eggroll ​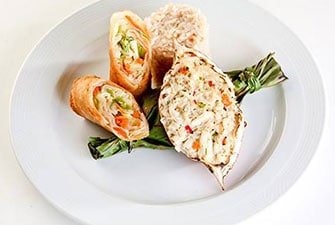 Pinais Na Alimasag​
P 465​
Blue crab shell stuffed with crabmeat and young coconut, cooked in coco cream, served with Bagoong Balayan Rice​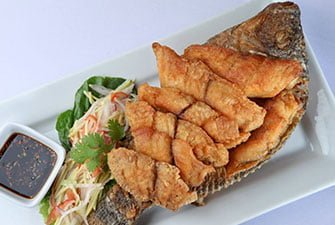 Pinalutong na Tilapia​
P 375​
Deep fried to a golden crisp, served with soy calamansi dip and sisig sauce​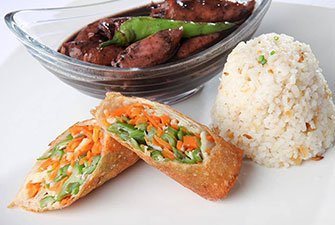 Baby Squid stewed in garlic, soy sauce, vinegar and bay leaves​
Native salads and vegetables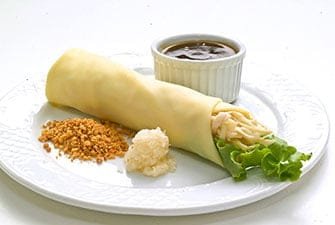 Spring roll of hearts of palm with pork and shrimps. Add P10 if fried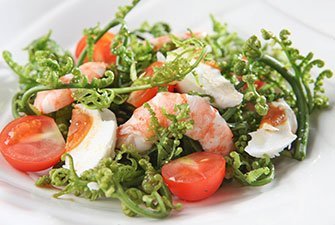 Healthy and fresh bunches of crisp fern leaves with tomatoes, salted egg, and shrimps with a simple refreshing vinaigrette ​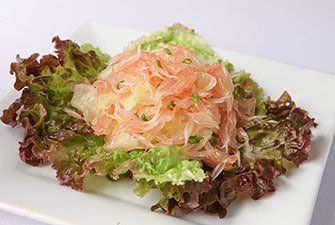 Ensaladang Suha at Labanos​
P 255​
Pomelo-radish salad ​
Broiled eggplant stuffed with sauteed ground pork and pan-fried beaten eggs ​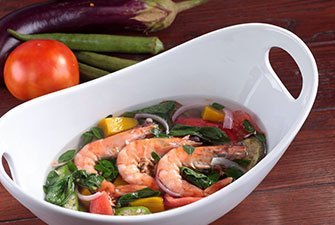 Squash, beans, okra, eggplant, and leafy green vegetables with shrimps and clams in an earthy vegetable broth ​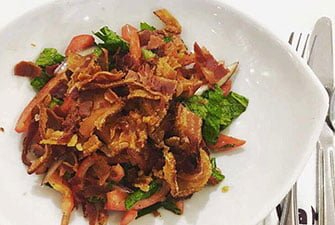 Ensaladang Bagnet​
P 260​
Crispy roasted pork with mustard leaves, tomatoes, and shallots in calamansi and bagoong dressing ​
Oyster on Half Shell​
P 410​
Succulent fresh oysters, served with classic cocktail sauce and lemon wedges ​
Baked Oyster Platter​
P 590​
A sampler platter of our best selling flavors: Boursin, Parmesan, Rockefeller ​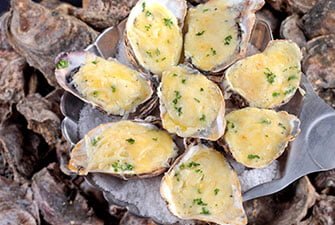 Creamy three cheese blend, garlic and herbs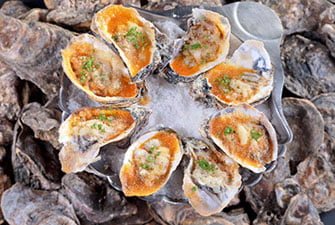 Toasted crusty Parmesan Cheese, garlic and butter ​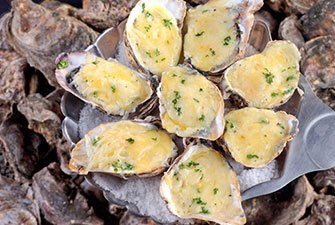 Whipped Japanese Mayonnaise, with mild Wasabi Tartare ​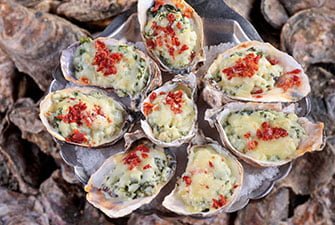 Oyster Rockefeller​
P 485​
Creamy three cheese blend, spinach and bacon bits ​
Refreshing combination of Halo-Halo, Mais Con Hielo, and Guinomis ​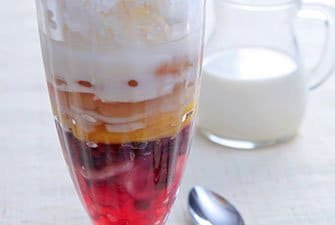 A melange of sweetened fruits, yams, pulses, and egg custard with milk, crushed ice. With ice cream add P55
Cream-style corn with milk and shaved ice ​
Sago, pinipig, gulaman, at gata ​
Chilled whole young coconut ​
Tapioca Pearls in caramel ice
Ube or Macapuno (per scoop)
Freshly Squeezed Fruits and Vegetables
Choose between mango, watermelon, pineapple, carrot, calamansi, melon, dalandan, green mango
Buko Pandan Scramble
P 120
Spanish Style Chocolate
P 90
Hot Brewed Decaffeinated​
P 95
Hot /Cold Cafe Au Lait​
P 100
Hot / Cold Capuccino​
P 110
CATERING ONLINE EXCLUSIVE
Executive Set Meals & Merienda Set Trays
Not available in any of our restaurants, this exclusive online-only offer from our catering kitchen features some of our best-selling catering dishes freshly prepared in boxed meals or in set trays. A perfect and quick solution for bulk orders of special gatherings and corporate meetings.
Fillet of Pacific Bass with Roasted Sesame Sauce

Maple Roasted Carrots, Cauliflower, Broccoli

Chocolate Fudge Cake
Pescado Ajillo

Sauteed Julienne Vegetables

Fudge Brownies
Roast Chicken with Mango-Anise Sauce

Garlic Glazed French Beans, Carrots, Radish

Fudge Brownies
Maple Glazed Roast Chicken

Assorted Roasted Vegetables

Bread & Butter Pudding
Slow Roasted US Beef Brisket with Fresh Mushroom Gravy

Maple Roasted Carrots

Bread & Butter Pudding
Braised Beef Orientale

Pomelo Radish Salad

Bread & Butter Pudding
Bam-I Guisado with Chorizo

Fresh Lumpia Ubod

Grilled Pandesal (Laguna Cheese & Adobo)

Palitaw

Bibingka Cassava
Arroz Caldo topped with : Adobo Flakes, Fried Wonton, and Tofu

Grilled Pandesal (Kesong Puti)

Palitaw

Cassava Bibingka
Pancit Luglog

Tokwa't Baboy

Fried Lumpia Ubod

Grilled Pandesal (Laguna Cheese & Vigan Longaniza)

Bibingka Galapong

Puto Bumbong
Pancit Luglog

Tokwa't Baboy

Fried Lumpia Ubod

Grilled Laguna Cheese Pandesal

Cassava Slices
Pancit Luglog

Fried Chicken Wings

Grilled Kesong Puti Pandesal

Palitaw
Pancit Palabok

Pork Shanghai

Laguna Cheese & Longaniza Pandesal

Bibingka Galapong
Light Morning and Afternoon Snacks
Mini Sandwiches - includes Chicken Orange Cubes, Tuna Rounds, and Cheese Pimiento Triangles

Cinnamon Rolls
Chicken & Mushroom Turnover

Honey Glazed Doughnuts
Adobong Kesong Puti Rolls

Mini Chicken Empanaditas